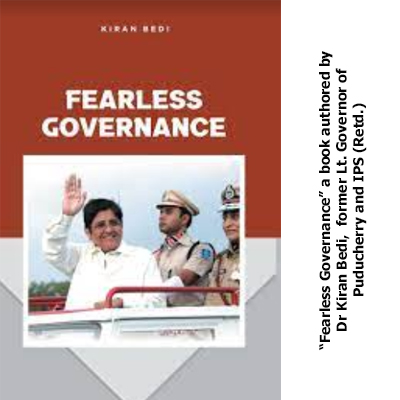 Fearless Governance" a book authored by Dr Kiran Bedi, former Lt. Governor of Puducherry and IPS (Retd.). The book is based on the ground realities of nearly five years of service of Dr Bedi as Lt. Governor of Puducherry and her vast experience of 40 years in the India Police Service. The book was launched online by legends – Ms. Indra Nooyi, Former Chairperson and CEO of PepsiCo and Prof. Debashis Chatterjee, Director, IIM- Kozikhode. Through this book, Dr. Bedi brought about right leadership practices, team spirit, collaboration, financial prudence, effective policing, bonding in services and decision making through fearless leadership.
"Fearless Governance" is Must-Read book for Corporate Leaders/ Business Leaders / Management Students
Why Corporate/ Business Leaders should read it: This book contains right leadership practices in both private and public sectors/ Real lessons to learn/ Check out what are the universal principles to run businesses/ How to work with team/ How to think out of the Box.
Why Management Students read it: Case Study/ Lessons for corporate ready with real examples / How to perform as a team member/ Why to follow best corporate practices right in Corporate world?
The book is available in amazon and flipkart.